Civil Service Test Prep Overview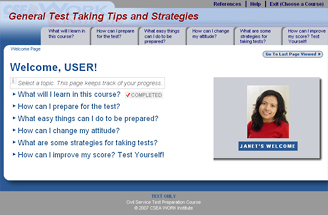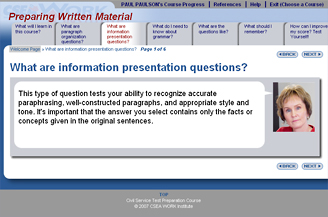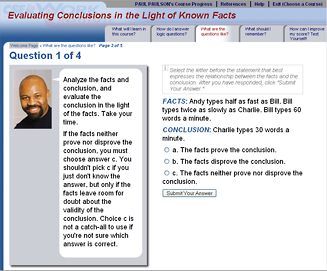 To access the courses you must first log in. Click the "Log In" tab above. After you log in you will automatically be returned to the e-Learning Center. If you have registered, you will be taken to your Courses page, which will have a list of all courses. If you have not registered, you will be given instructions on how to do so.
Special Promotional Rate!
$ 9.99 for one month (CSEA members)
You will be asked for your payment information when you go through the registration process.
Try
CSEA's free Civil Service Test Preparation Demo
to see how you can benefit.
The courses currently being offered are
General Test Taking Tips and Strategies
Understanding and Interpreting Written Material
Preparing Written Material
Understanding and Interpreting Tabular Material
Office Record Keeping
Verbal Analysis / Evaluating Conclusions in Light of Known Facts
Supervision
Office Practices
Alphabetizing/Name and Number Checking (covers Filing and Clerical Operations)
Arithmetic Reasoning (covers Arithmetic Computation)
Coding and Decoding Information
Keeping Simple Inventory Records
Reading
Grammar, Usage, and Punctuation
Keyboarding Practices
Spelling
Educating and Interacting with the Public
Scheduling
Accounting Basics- NEW!
How do you know which course to take?
The exam announcement for a Civil Service position will indicate the subject matter covered for that position. Under the heading "Subject of Examination," there will be a list of the topics covered on the exam for which you are applying. For example:
SUBJECT OF EXAMINATION: There will be a written test which you must pass in order to be considered for appointment. The written test is designed to test for knowledge, skills, and abilities in such areas as:
Providing good customer service...
Arithmetic reasoning...
Preparing written material...
Understanding and interpreting written material.
Concentrate your studying on the e-learning courses that correspond to the topics listed on your examination announcement.